On Friday 11th February, Cornwall Music Education Hub organised a Battle of the Bands competition at Heartlands.
8 incredibly talented acts from all over Cornwall performed a wide range of musical acts to an incredibly impressed audience. There was a real buzz of excitement, energy, mutual appreciation and love of music from all of the acts.
2 RLS acts took part in the competition. 2nd to perform was singer songwriter, Amy Jeffries from Year 11. Amy's powerful solo performance filled the room with her beautiful soulful voice and piano accompaniment. A transfixed audience listened in silence until they erupted into applause at the end. RLS Staff at the back turned to each other and said 'Wow!'
6th up was Black Metro, our newly named Year 11 rock band, complete with a fabulous new addition – a singer! The party got well and truly started with some of the audience on their feet, clapping along to absolute classics like 'Parklife' and 'Figure It Out.' After 4 high speed, maximum energy songs, the band sat down to vociferous applause!
The standard of performance so impressed the judges so much that they awarded all 8 acts prizes which included sessions in a professional recording studio and mentoring.
However the judges were obliged to announce an overall winner. (It was a 'battle' after all)..
We are delighted to announce that BLACK METRO were that winner, a very well deserved win! Well done to Amy too, whose performance  was completely different in style but certainly, equally powerful.
Thank you to Cornwall Music Education Hub for a fantastic evening, the acoustics in Heartlands sounded amazing and it was wonderful to hear our students perform there. Thank you to Miss Foxon for nurturing these acts and finally thank you to the FANS – friends and family – who came along to support, it wouldn't have been the same without you!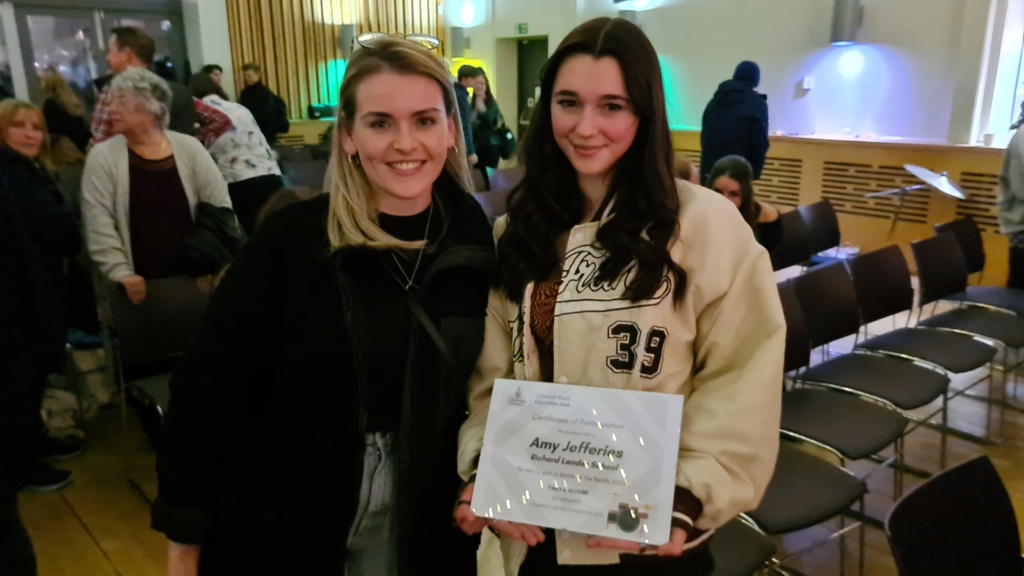 ---