The online consent form is now closed. Any final submissions can be completed on paper. Paper forms can be collected from the Music Department (Room 126) and handed back to Ms Jones, no later than Wednesday 7th December.  Thank you
Service of Nine Lessons and Carols
Truro Cathedral on Monday 12th December 2022 at 7.30pm
All parents, relations and friends of children in Year 7, Year 8 and members of the school choirs, orchestra and soul band are invited to this service. There is no admission charge or tickets, however there will be a collection during the evening. All Students should arrive by 7pm to the Cathedral to get organised and warmed up for the evening and audience members should be seated by 7.15pm. Students in the School Orchestra and School Choirs would preferably arrive by 6.45pm. On arrival students will be directed by a member of staff. The service will end no later than 9pm.  Afterwards, students can be collected from the front of the cathedral.
For those students taking part there will be in school rehearsals, and then a final rehearsal in the Cathedral during the morning of Monday 12th December. Students will be transported from Richard Lander School by coach. We will return to school after the practice in time for lunch, but students will need to bring a snack and a water bottle, and in case we run late, students may wish to bring a pack lunch for that day. Any students who receive free school meals, who are attending this rehearsal, will be given a packed lunch on the day.
I would like to stress that whilst this is traditionally a Christmas celebration, students from all religious and non-religious backgrounds are encouraged to attend. It is also a school tradition for the congregation to join in with plenty of singing! Students will need to be in smart uniform on the night of the Service, and obviously make their own travel arrangements for the evening.
I am very much looking forward to this magical annual Christmas event. It has been too long since we have been able to welcome in Christmas as a school community, and this event always marks the occasion in such a fabulous setting.
Yours Musically, The RLS Music Department
Miss Jones sjones@richardlander.cornwall.sch.uk
Miss Foxon gfoxon@richardlander.cornwall.sch.uk
Mr Gibbons jgibbons@richardlander.cornwall.sch.uk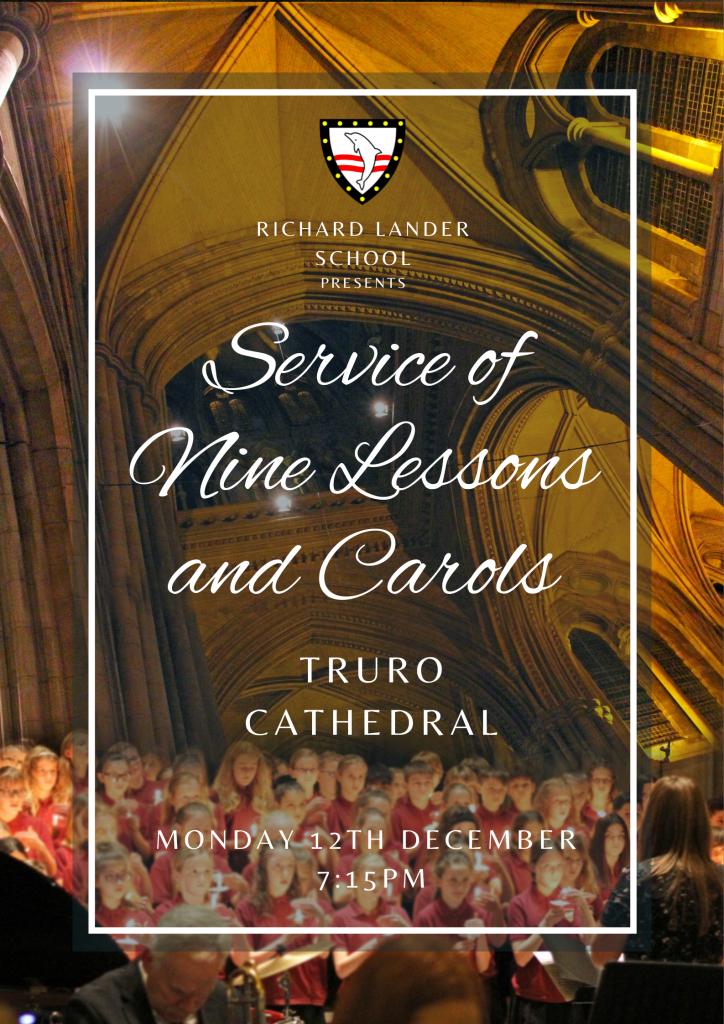 ---