KS4 Opportunities
This section details some of the many trips and visits our students have taken part in recently.  This is part of the rich and extensive extra curricular programme which helps to broaden the mind and develop the notion of ourselves as global citizens.
This section details some of the many trips and visits our students have taken part in before Covid-19.  These visits are part of the rich and extensive extra curricular programme which helps to broaden the mind and develop the notion of ourselves as global citizens.
Our KS4 international visits have given students the opportunity to work in a Ugandan school, discover the charm of bathing in an Icelandic hot spring, immerse themselves in history and reflection on the Munich and Dachau Concentration Camp and memorial trip and take part in cultural visits to France and Spain.
In addition, there are many opportunities to visit places of local interest and to visit cities such as London, to go to the theatre in the West End or visit the capital's museums or art galleries.
Year 10 and 11 Duke of Edinburgh students can progress on to the  Silver Award, or train for the Ten Tors challenge.
We also enjoy an exciting range of in school extra curricular opportunities. Our annual school production sees student actors, musicians, sound and lighting engineers, costume and set designers working together to produce an awe inspiring show. Our Greenpower team, Richard Lander Racing, gives our engineers and drivers the chance to compete at an international level.
One off events such as charity bake offs, competitions, art, humanities, creative writing and science workshops, along with learning community sports events compliment our timetable of lunchtime and after school clubs
For the most recent copy of our lunchtime and after school clubs brochure please follow this link.
Our Year 10 trip to Uganda is a truly life changing experience. After a year of fundraising, students travel to West Africa for 4 weeks away from home, distributing funds and donations, and working in our partner schools as bricklayers, painters and teachers.
The adventure begins when students sign up for the Uganda trip near the end of Year 9; giving parents a year to pay for the trip in installments, and the team a year to raise money for the building and infrastructure projects our students will take part in. Over a whistle stop year of bake sales, school sleepovers, head shaves, charity auctions, quiz nights, sponsored events, babysitting, curry nights… students become affective and experienced fundraisers.
Our Lander4Uganda 2019 team broke all previous records, numbering over 90 people and raising over £40,000 – all thanks to our amazingly supportive students, staff, families and local community. Logistics meant that the team needed to be split into 2 groups – Red and Gold – and travel in rotation to different working locations before all meeting up at the end, to celebrate the hard work, at Murchison Falls Safari Park.
To read all about this amazing experience please visit the L4U2023 blog. 
Navarrenx Exchange - MFL Department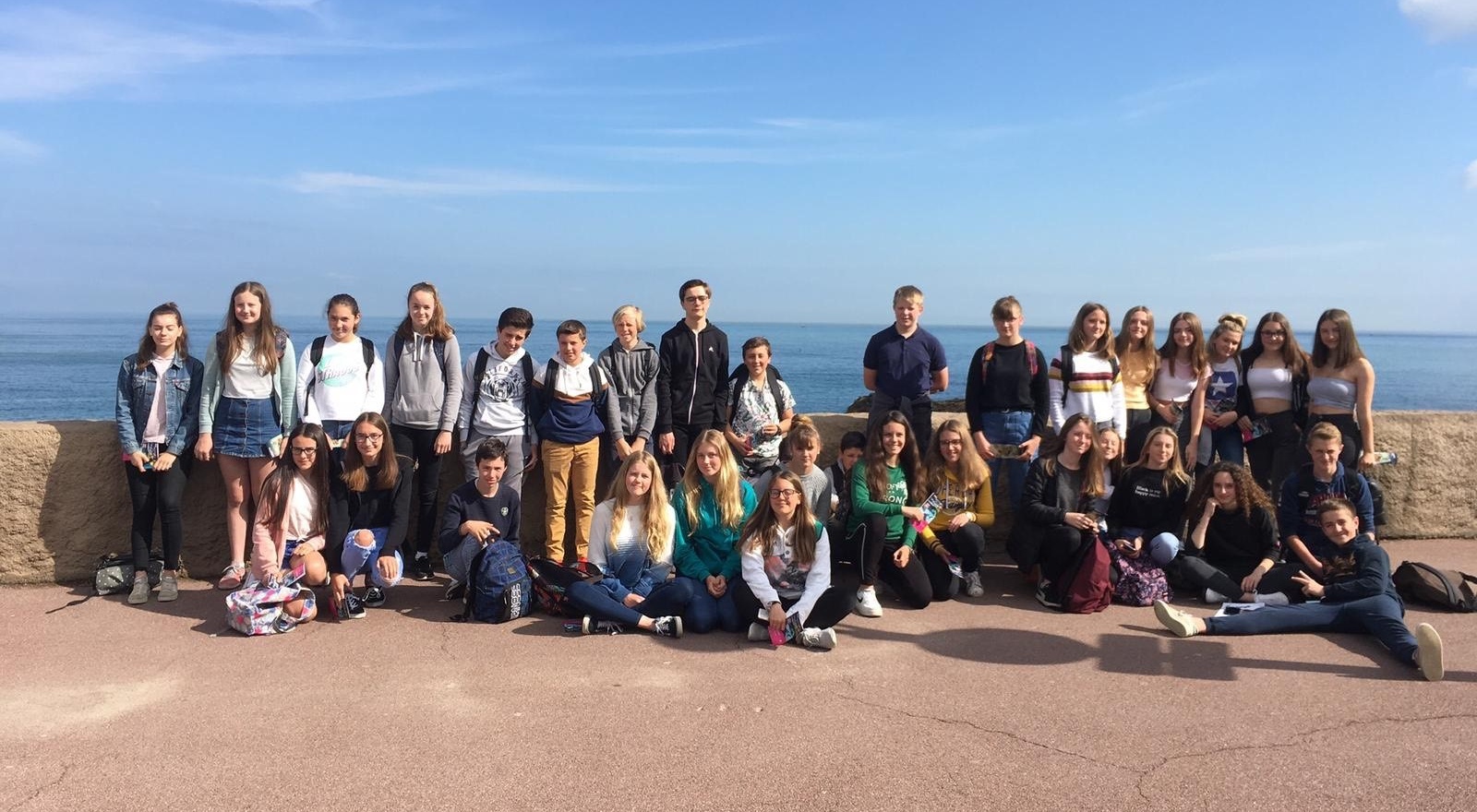 Richard Lander School has been running exchange trips with French schools for many years. In May 2019, 15 of our keenest linguists travelled to Navarrenx in southern France to spend a week with their French correspondents.
The Navarrenx students had visited us the previous December on the first leg of the exchange and our students had brought them into school to experience an English school day and shown them the sights of Cornwall.
Year 10 student, Dan, wrote this report:
After a 12 hour journey we arrived at College des RempArts where we met the Headteacher, our correspondents and their parents. It was great to see our French friends again. The Headteacher announced that he expected us to speak French at all times as he didn't speak a word of English!
We then went to the family homes of our exchange students for the weekend. Although it all felt a bit strange initially, by the end of the first day I felt very comfortable around Estaban's family and there was lots of fresh bread which tasted much better than English bread.
Over the weekend some students visited the Lindt chocolate factory, but we stayed in the village and played lots of ping pong and visited Tom and his exchange partner who were just down the road.
On Monday we went back to le college des Remparts where we had 2 lessons, mine were geography and English. In geography we learnt the lifecycle of a t-shirt in French, in English we had a trivia quiz and I won. On Tuesday we visited the aquarium in Biarritz, we took lots of photos and watched local people going about their business. After that we had free time, I bought a Kit Kat flavoured ice cream and visited a librairie and Tom starred in a local YouTuber's video. With Tom and his correspondent we went on a tour du velo (cycling tour) which went past the English teacher's house.
On Wednesday we went back to school for a French grammar lesson and the teacher taught us about Napoleon 3rd and how Biarritz was used by his armies.  We also had a Spanish lesson but I didn't understand much! After school we went into Navarrenx to visit the market stall, I bought myself a baguette. School finished at 12:35 as French students have Wednesday afternoons off.
On Thursday, during the school day we went to Pau, where we caught a cable car up to King Henry 4th's house and saw an impressive well. We walked through the town with free time to explore. I bought really sour sweets and fed them to Ms Hargrave's husband. He didn't like them.
Then we went bowling and I came second.
On Friday we left the school to travel back to England. At the airport one of our teachers had her cheese confiscated as it was soft cheese and only hard cheese is permitted. The flight was delayed for 10 minutes but the bus was also delayed in England so we eventually got home at around 10pm.
I had a great time visiting my French family and would recommend this trip to any students who are thinking about participating in the future.
Munich - History Department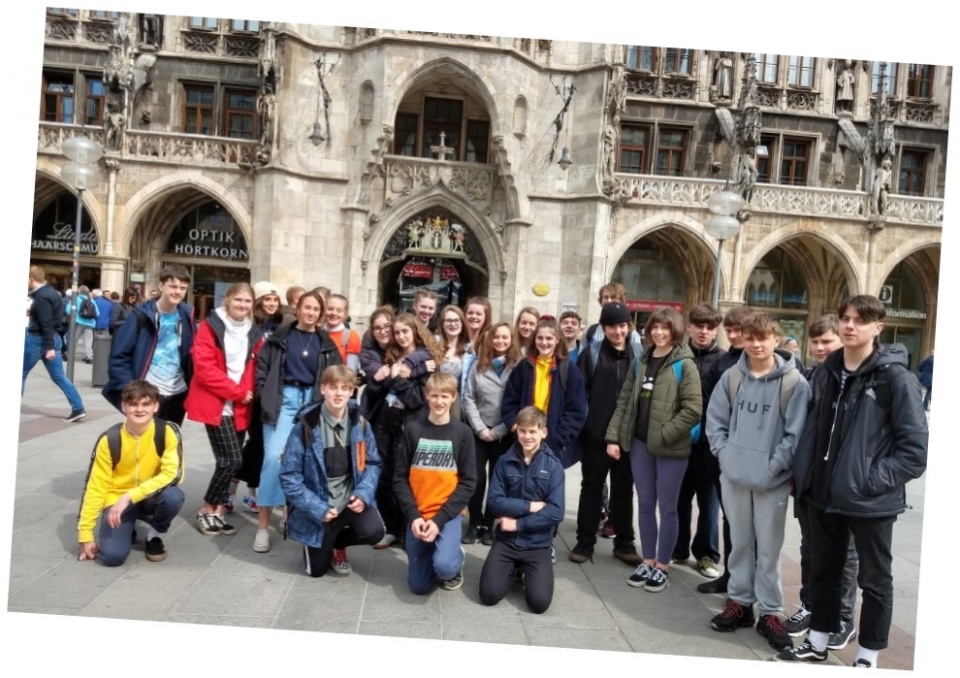 Our Munich trip offers our GCSE Historians the chance to immerse themselves in the past. Here is a report from 2019.
Before the Easter break 30 Year 10 students and members of the History Department visited Munich. This visit is linked to the GCSE specification but is also fantastic for anybody who has an interest in Weimar and Nazi Germany.
On the first day, students had a walking tour of Munich, exploring the cultural history of this famous city. Students were able to visit the site of the doomed Munich Putsch of 1923, the beer halls and gardens of Munich and Munich University. This is the site where Hans and Sophie Scholl, students of the university dropped hundreds of anti-Nazi leaflets, which led to their execution. There is a memorial to Hans and Sophie Scholl at this site.
Day 2 involved a trek to the Mountains where Hitler enjoyed spending a lot of his time. This is the location of the 'Dokumentation Centre', which focuses on Propaganda, but also methods of fear used by the Nazi Party. The views were astounding and underneath this complex, Hitler built a bunker system, which we were also able to explore. Following this we visited Salzburg in Austria, the home to the 'Sound of Music' to immerse ourselves in some Austrian culture. There was also some free time for shopping and eating apple strudel! In the evening we returned to Munich and had some free time for bowling.
Day 3 was another busy day. We visited the site of the Zeppelin fields in Nuremberg and the enormous stadium Hitler was planning to build on this site. It now houses an extensive Museum covering his rise to power, methods of control and Propaganda. The site was supposed to resemble the colloseum, but would have been 3 times larger and covered in Marble. The Zeppelin fields, where the Nazis held their famous rallies, including the rally of 1935 which led to increased laws segregating Jewish people, despite not being maintained, still provided our students with an opportunity to see how Hitler would use rallies to inspire and intimidate his audience. In the afternoon we visited courtroom 600 the site of the Nuremburg trials, where men and women accused of participating, organising and killing during the holocaust were put on trial. There was a museum dedicated to explaining the process and the fates of the people on trial.
Day 4: This was our last day in Munich. In the morning we visited Dachau Concentration Camp and memorial. This was obviously a time for reflection. So much of what we had been learning about during our time in Munich and Nuremburg was in preparation for this. The students were respectful and listened carefully to our guide. In the afternoon we went for lunch in the Englischer Garten in Munich where we heard traditional German music and relaxed in the sun before boarding our flight home.
Iceland - Geography Department
The annual field trip to Iceland is an unforgettable experience for our Year 10 geographers. Students develop a better understanding of the GCSE specification, while creating long-lasting memories. Here are some entries from the 2019 social media posts.
TUESDAY – Despite the elements, our students enjoyed exploring Iceland's capital city Reykjavík (Icelandic for 'Smokey Bay') and its quakeproof buildings.
WEDNESDAY – Waterfalls, glaciers and sea stacks! Our Year 10 students discussed the issues regarding 110 metres of glacial retreat since last year's visit.
Despite the elements, our students enjoyed exploring Iceland's capital city Reykjavík (Icelandic for 'Smokey Bay') and its quakeproof buildings.
THURSDAY – Geothermal activity was the theme of the day. Having visited the world's largest geothermal power station and witnessed the Great Geysir (geyser), our students gained a crucial understanding of how we can harness a powerful natural resource.
FRIDAY – It was the final day in Iceland for our Year 10 students. First stop: a rather smelly fish drying station! For more picturesque views our budding geographers visited Lake Kleifarvatn and the rugged seas of the Reykjanes Peninsula. Oh, and another chance celebrity meeting… Toff ('queen of the jungle').
In years 10 and 11, students can progress to Duke of Edinburgh Silver award. There are four sections to complete; they involve helping the community/environment, becoming fitter, developing new skills, planning, training for and completing an expedition.
Any young person can do their DofE – regardless of ability, gender, background or location. Achieving an Award isn't a competition or about being first. It's all about setting personal challenges and pushing personal boundaries.
Through a DofE programme young people have fun, make friends, improve their self-esteem and build confidence. They gain essential skills and attributes for work and life such as resilience, problem-solving, team-working, communication and drive. A DofE award enhances a CV or university/ job application and employers recognise the work-ready skills award holders bring to their business.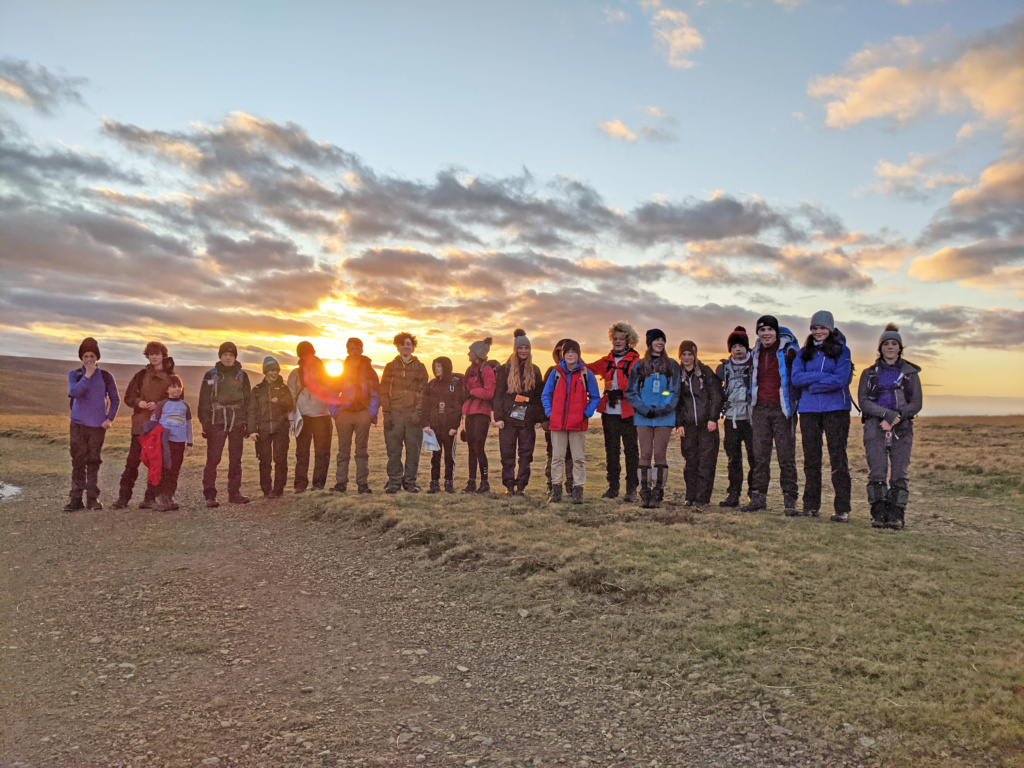 Year 10 students who have completed DofE Bronze and are looking for an extra endurance and navigation challenge, are invited to train for Ten Tors.
The Ten Tors Challenge is attempted by 2,400 teenagers in 400 teams of six during the weekend following the May public holiday. The teams navigate routes of 35, 45 or 55 miles (depending on age) over the Northern half of Dartmoor, visiting ten nominated tors / check points in under two days. Teams must be self-sufficient, carrying all that they need to complete their route and stay out overnight safely. There may be many challenging outdoor events in Britain today, but Ten Tors stands alone in its scale, its ambition and the fact that it is aimed solely at young people.
At Richard Lander School, we begin training students in January, starting with day walks on Bodmin Moor and Dartmoor and then progressing to camping weekends on Dartmoor. In April the final team is chosen.
In 2019, for the first time, we were allowed to enter 2 teams, both of which successfully completed the challenge.
Congratulations to all the students who took part in Ten Tors this year. We followed the progress of our two selected teams on the weekend of 11th/12th May when they left Okehampton to trudge across 35 miles of Dartmoor, climbing ten tors and carrying rucksacks of up to 20kg containing everything they needed to survive and camp wild to complete this challenge. Our 2 teams were sent on different routes and we are proud to say both crossed the finishing line before 12am on Sunday! They had a few blisters and aches and pains but nothing too serious. Well done to Aaron, Ben, Mack, Kate, Jason, Milo, James, Sophie, Evie, and Olivia!
Greenpower International Champions
Ever thought about designing your own race car, then taking it to a race track like Silverstone or Goodwood and racing? Well, that is exactly what our students have done with their Greenpower race car.
The Greenpower competition encourages schools to build a race car, within a set design brief, using battery power as its energy source. It helps create designers and engineers of the future, who are already focusing their attention on sustainability issues.
Our Greenpower team are students from all year groups, who have worked with staff to design the Greenpower car. Students then race it in 'Le Mans' style events, complete with pit teams and driver changes.
The Richard Lander Racing Team are three-time world Greenpower champions having won the international final at Rockingham Motor Speedway in 2017, 2018 and 2019. Here is a report from the 2018 final. The photographs above are from the 2019 final and the trip to Renault F1. The Richard Lander Racing Team are three-time world Greenpower champions having won the international final at Rockingham Motor Speedway in 2017, 2018 and 2019. Here is a report from the 2018 final. The photographs above are from the 2019 final and the trip to Renault F1. In May 2022 Richard Lander Racing returned to Goodwood. Despite losing our precious '1' and '2' numbers and having to start each race much further back on the grid, RLR3 won the Goodwood qualifier.

The Greenpower Education trust is a charitable organisation setup to promote the STEM (Science,  Technology, Engineering and Maths) subjects, through the design and build of electric racing cars. Races are held around the UK and also further afield in the USA, China, Brazil, and Europe. All cars run the same batteries and motor, and must aim to complete the greatest distance over a 90 minute race, two of which are run at each event.
In 2018, Richard Lander Racing had their best ever season following the 2017 World Championship win. Race wins were recorded at Goodwood, Castle Combe and at Predannack airfield on The Lizard, which put Richard Lander School on the top of the distance records prior to the finals, giving the team pole position for the Rockingham races.
The two day event included practice sessions on the Friday before the final races were run on the Saturday. The Friday saw fine Autumn weather with temperatures reaching 18 degrees and light winds. Many teams felt confident in their performance including Richard Lander, however the weather was due to change significantly for Saturday. The team awoke to very cold, wet and windy weather, which proved a game changer in terms of the cars performance. Richard Lander School ran the car during first practice to assess the difference in performance and found the weather was punishing the lap time by over 10 seconds a lap. This meant a change in gear ratio was needed to protect the battery life over the full 90 minute race.
The cars lined up for the start with Richard Lander's car RLR 3 in pole position. As the flag fell, disaster struck, RLR 3 remained stationary as the rest of the field pulled away. The car was brought into the garage and the fault was traced to a freewheel mechanism failure, so no power was reaching the wheels. The part was replaced, refitted and the car sent out to compete but was in no position to win having lost half an hour of the 90 minutes. It would all have to come down to race 2 in the afternoon. Race 1 showed the full effect of the weather as many cars ground to a halt before the 90 minutes was up.
Race 2 saw the cars line up once again. Richard Lander would have to beat the distance set by the race 1 winners and previous champions Sandbach High School, as well as win the race. The pace set initially was not the fastest of the field, and RLR 3 settled into 5th place as the opposition bolted into the lead. An agonising wait followed as the team executed their pitstops, and hoped that the other cars pace would not hold. Thankfully at around 75 minutes into the race, the pace of the two main competitors began to drop, while RLR 3 maintained its pace, albeit at a reduced rate. Last year's runners up and Race 1 winner Sandbach High School was approximately half a lap behind RLR 3 as the final 10 minutes began. Both cars pace was declining, but thankfully RLR 3's degradation was less than Sandbach, allowing RLR 3 to take the victory, ending over 3 minutes ahead of Sandbach. The distance set was also the greatest of the two races at 41.99 miles, handing the victory to Richard Lander School.
The International Finals brought with it some fantastic cross school support for the Cornish teams. Sir James Smith's school brought their car Retro Rocket home in 20th place and was 3rd best kit car. Roseland Academy took place in their first ever finals event, finishing in a very credible 22nd place with their car Roseland Racer 5. Penair school and Truro High School collaborated to race the Penair car Sub Atomic as a joint team, following the Penair team's late withdrawal from the event. The High School raced Sub Atomic to 48th place. The collaboration between the teams in the garages was fantastic and Truro High School picked up the Spirit of Greenpower award for helping out Penair School.
Richard Lander School would like to say a massive thank you to the Greenpower Education Trust for running this incredible project. We would also like to thank our sponsors this year, Teagle Farm Machinery, Dash Drive, Cornwall Glass, and Team Maintenance Services