This section details some of the many trips and visits our students have taken part in before Covid-19.  These visits are part of the rich and extensive extra curricular programme which helps to broaden the mind and develop the notion of ourselves as global citizens.
Our KS3 international visits have given students the opportunity to go white water rafting in the Ardeche, make gelato in Italy, visit the windmill fields of Holland and take part in cultural visits and exchanges to France and Spain.
In addition, there are many opportunities to visit places of local interest and to visit cities such as London, to go to the theatre in the West End or visit the capital's museums or art galleries.
We also enjoy an exciting range of in school extra curricular opportunities. Our annual school production sees student actors, musicians, sound and lighting engineers, costume and set designers working together to produce an awe inspiring show. Our Greenpower team, Richard Lander Racing, gives our engineers and drivers the chance to compete at an international level. All Year 9 students are invited to do Duke of Edinburgh Bronze Award, giving them the opportunity to develop skills and work experience and take part in expeditions.
One off events such as charity bake offs, competitions, art, humanities, creative writing and science workshops, along with learning community sports events compliment our timetable of lunchtime and after school clubs
For the most recent copy of our lunchtime and after school clubs brochure please follow this link.
[supsystic-gallery id=58]
In CEW  2019, 60 students visited Sorrento in southern Italy. The week long trip, organised by Mrs Toms from the Food department, included forming mozzarella at a mozzarella farm, making pizza and then cooking it in a wood fired oven and visiting an ice cream factory to make gelatto.
When not preparing food, students worked up their appetites climbing to the summit of Mount Vesuvius and visiting the remains of the ancient city of Pompeii. Pompeii was buried by the eruption of Mount Vesuvius in AD 79, but largely preserved under the ash, meaning the excavated city offers a unique snapshot of Roman life, frozen at the moment it was buried,
Students also thoroughly enjoyed chilling out in the sun at the hotel, cooling off in the swimming pool, eating wonderful Italian meals and taking photographs of the stunning views over the Bay of Naples.
Ardeche Watersports Adventure
[supsystic-gallery id='65']
The RLS Ardeche trip is water based activity trip based in the Ardeche Valley, Southern France. It last happened in 2019 and we can't wait to start it again when it is safe to do so.
Over the course of a week there are various activities on or around the river, including kayaking, canoeing, archery, potholing, rock climbing, high ropes, swimming, rafting.
Occasionally there is a two centre option partly based in Segries on the Mediterranean coast. This enables additional activities such as various types of sailing, wind surfing, banana boating and snorkelling, and to top that, half way through there is a water park thrown in at the Cap de Garde.
The main accent of the river takes place over two days, the total travelled distance being up to 25 Kilometres. Along the river there are numerous rapids to navigate, fast flowing water and options to swim down some rapids and jump off high ledges into the river itself.
The weather is very warm and humid so the river decent is split through the day into segments allowing students to cool off and enjoy the beautiful surroundings.
RLS Ardeche trip is without doubt the most exceptional activity trip of them all and creates incredible memories.
[supsystic-gallery id='66']
During CEW 2018, 37 lucky students travelled to Barcelona and had the most amazing time!  We set off early on Saturday morning and, after a rather long coach journey, arrived in the resort of Tossa de Mar on the Costa Brava on Sunday afternoon. After checking into our hotel, we did some sightseeing around the beautiful hilltop castle ruins in the hot sun before cooling off in the hotel pool and getting ready for our tapas tasting evening and all you can eat buffet!
We had an action packed week and really crammed a lot into our stay. On Monday we travelled into Barcelona city centre, walking along Barcelona's famous Las Ramblas and sampling the sights, sounds and smells of La Boquería food market. We then did a spot of shopping in El Corte Inglés department store before exploring the architecture of Antoni Gaudí, visiting both Casa Milà and Casa Battló before having a tour of La Sagrada Família and seeing the most amazing stain glass windows ever! On Tuesday we explored Gaudí's Parc Güell with amazing sights over Barcelona before following in the footsteps of Messi, Suárez and Piqué with a tour of Barça's famous Nou Camp! On Wednesday we were lucky enough to visit Spain's largest theme park PortAventura which was not for the faint hearted!  Shambhala, the tallest and fastest hypercoaster in Europe was definitely a hit! The week ended with a spot of souvenir shopping in the resort of Tossa de Mar before heading back home.
A great week was had by all, students and staff alike, and I think that we all agree Barcelona is an AMAZING city!
[supsystic-gallery id=67]
In the Spring term, the MFL Department organise a Year 8 trip to Paris in giving students the opportunity to experience French life and culture and practise their French speaking skills too!
We visit famous Parisian landmarks including the Eiffel Tower, le Sacré Coeur and the artisan Montmartre and see many more on our boat and coach tours of Paris including Notre Dame and l'Arc de Triompe. We practise our French language skills in the market in Melun buying souvenirs for friends and family and we immerse ourselves in French culture at the royal palace of Fontainebleau which was the inspiration for Versailles. Our trip culminates in a whole day at Eurodisney hanging out with Mickey and friends.
These photos are from the 2019 trip. We can't wait to return to Paris when it is safe to do so!
Greenpower International Champions
[supsystic-gallery id=73]
Ever thought about designing your own race car, then taking it to a race track like Silverstone or Goodwood and racing? Well, that is exactly what our students have done with their Greenpower race car.
The Greenpower competition encourages schools to build a race car, within a set design brief, using battery power as its energy source. It helps create designers and engineers of the future, who are already focusing their attention on sustainability issues.
Our Greenpower team are students from all year groups, who have worked with staff to design the Greenpower car. Students then race it in 'Le Mans' style events, complete with pit teams and driver changes.
The Richard Lander Racing Team are three-time world Greenpower champions having won the international final at Rockingham Motor Speedway in 2017, 2018 and 2019. Here is a report from the 2018 final. The photographs above are from the 2019 final and the trip to Renault F1. In May 2022 Richard Lander Racing returned to Goodwood. Despite losing our precious '1' and '2' numbers and having to start each race much further back on the grid, RLR3 won the Goodwood qualifier.

The Greenpower Education trust is a charitable organisation setup to promote the STEM (Science,  Technology, Engineering and Maths) subjects, through the design and build of electric racing cars. Races are held around the UK and also further afield in the USA, China, Brazil, and Europe. All cars run the same batteries and motor, and must aim to complete the greatest distance over a 90 minute race, two of which are run at each event.
In 2018, Richard Lander Racing had their best ever season following the 2017 World Championship win. Race wins were recorded at Goodwood, Castle Combe and at Predannack airfield on The Lizard, which put Richard Lander School on the top of the distance records prior to the finals, giving the team pole position for the Rockingham races.
The two day event included practice sessions on the Friday before the final races were run on the Saturday. The Friday saw fine Autumn weather with temperatures reaching 18 degrees and light winds. Many teams felt confident in their performance including Richard Lander, however the weather was due to change significantly for Saturday. The team awoke to very cold, wet and windy weather, which proved a game changer in terms of the cars performance. Richard Lander School ran the car during first practice to assess the difference in performance and found the weather was punishing the lap time by over 10 seconds a lap. This meant a change in gear ratio was needed to protect the battery life over the full 90 minute race.
The cars lined up for the start with Richard Lander's car RLR 3 in pole position. As the flag fell, disaster struck, RLR 3 remained stationary as the rest of the field pulled away. The car was brought into the garage and the fault was traced to a freewheel mechanism failure, so no power was reaching the wheels. The part was replaced, refitted and the car sent out to compete but was in no position to win having lost half an hour of the 90 minutes. It would all have to come down to race 2 in the afternoon. Race 1 showed the full effect of the weather as many cars ground to a halt before the 90 minutes was up.
Race 2 saw the cars line up once again. Richard Lander would have to beat the distance set by the race 1 winners and previous champions Sandbach High School, as well as win the race. The pace set initially was not the fastest of the field, and RLR 3 settled into 5th place as the opposition bolted into the lead. An agonising wait followed as the team executed their pitstops, and hoped that the other cars pace would not hold. Thankfully at around 75 minutes into the race, the pace of the two main competitors began to drop, while RLR 3 maintained its pace, albeit at a reduced rate. Last year's runners up and Race 1 winner Sandbach High School was approximately half a lap behind RLR 3 as the final 10 minutes began. Both cars pace was declining, but thankfully RLR 3's degradation was less than Sandbach, allowing RLR 3 to take the victory, ending over 3 minutes ahead of Sandbach. The distance set was also the greatest of the two races at 41.99 miles, handing the victory to Richard Lander School.
The International Finals brought with it some fantastic cross school support for the Cornish teams. Sir James Smith's school brought their car Retro Rocket home in 20th place and was 3rd best kit car. Roseland Academy took place in their first ever finals event, finishing in a very credible 22nd place with their car Roseland Racer 5. Penair school and Truro High School collaborated to race the Penair car Sub Atomic as a joint team, following the Penair team's late withdrawal from the event. The High School raced Sub Atomic to 48th place. The collaboration between the teams in the garages was fantastic and Truro High School picked up the Spirit of Greenpower award for helping out Penair School.
Richard Lander School would like to say a massive thank you to the Greenpower Education Trust for running this incredible project. We would also like to thank our sponsors this year, Teagle Farm Machinery, Dash Drive, Cornwall Glass, and Team Maintenance Services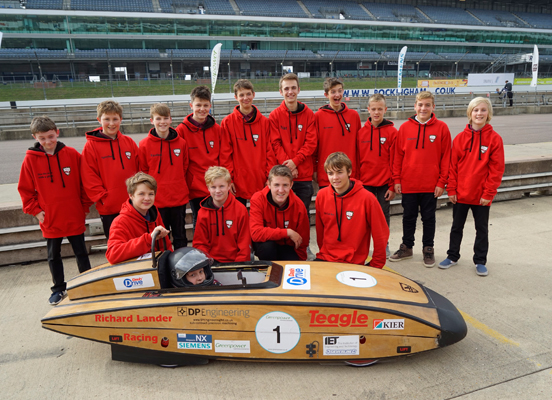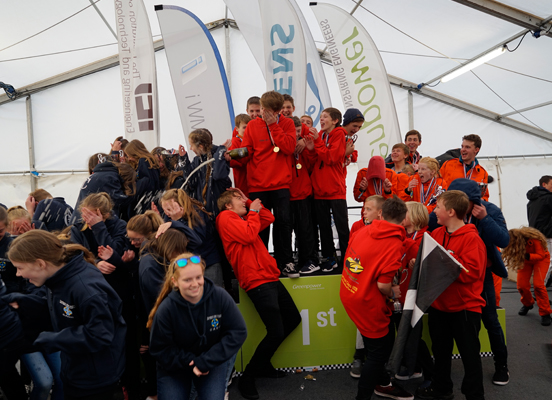 [supsystic-gallery id=68]
Starting in Year 9 students can do a DofE programme at one of three progressive levels which, when successfully completed, leads to a Bronze, Silver or Gold Duke of Edinburgh's Award.
Any young person can do their DofE – regardless of ability, gender, background or location. Achieving an Award isn't a competition or about being first. It's all about setting personal challenges and pushing personal boundaries.
There are four sections to complete at Bronze and Silver level. They involve helping the community/environment, becoming fitter, developing new skills, planning, training for and completing an expedition.
Through a DofE programme young people have fun, make friends, improve their self-esteem and build confidence. They gain essential skills and attributes for work and life such as resilience, problem-solving, team-working, communication and drive. A DofE award enhances a CV or university/ job application and employers recognise the work-ready skills award holders bring to their business.