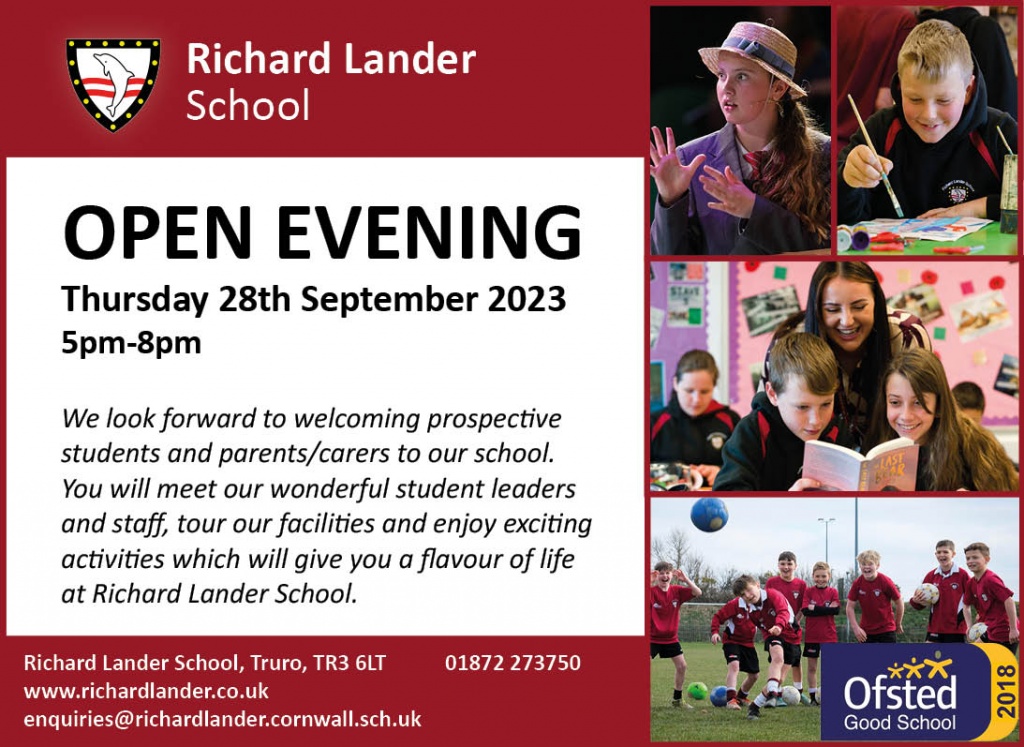 Richard Lander School is founded on the principles of respect, hard work and ambition.  We enable every student to achieve to the best of their ability and grow their confidence, self-esteem and maturity. Through a vibrant curriculum and a wealth of extra-curricular activities, the school ensures our students are well prepared for college and beyond, ready to make a positive difference to their world. Helping students become 'the best they can be' is the hallmark of our work.  In lessons you will find students engaged, eager to learn and achieving their highest of standards, supported by teachers, tutors and our excellent pastoral team. Our GCSE and Non-GCSE exam results regularly place us well above national averages.
Beyond the curriculum, there is a rich offer of activities, helping students develop confidence, teamwork and commitment. There is something for everyone to get involved in; be that our inclusive multi-trophy winning school sports teams; our sell-out annual school productions; our student councils, music groups, lunchtime and after school clubs, our World Champion Greenpower racing team…the list goes on. Our school calendar abounds with curriculum themed days – World Book Day, Space Camp, leadership days, competitive and non-competitive opportunities, charity fundraising and school trips to Europe, Africa, and Asia… Wherever your interests lie, there will be something for you at Richard Lander School.
Richard Lander School's Open Evening is a fantastic opportunity for students from years 5 and 6, along with their parents and carers, to take a tour of the school site, participate in exciting taster activities, hear our headteacher speak and meet our students and staff. Lander4Uganda will be selling refreshments and clean, used school uniform in good condition. Open Evening 2023 will take place on Thursday 28th September – 5pm-8pm. We look forward to seeing you there!
---